Another cute
necklace
alert! This one is very me! I've got a lovely bike that I'm actually shocked I haven't blogged about. She's my pride an joy; having not yet passed my driving test it's the best, most stylish and cheapest way to get around.
On the driving front I am getting better; I had an awesome driving lesson on Saturday despite a particularly amusing episode with an emergency stop.
So I'm driving along and my instructor says right so we are going to do an emergency stop blah blah blah when I say stop....just stop. So we're driving along and he says stop as anticipated, although instead of stopping I slam my foot on the accelerator instead of the break and the car speeds forward. I'm now wondering why the car hasn't stopped so I take my foot of the pedal and do it again!!
It was very funny, luckily myself and my instructor just fell about laughing as it wasn't dangerous and I just made a complete fool out of myself. He did tell me at the end of the lesson that I should book my test, so that's good!
Anyway; on to the necklace. So this is from
notonthehighstreet.com
I don't know if you've heard of them but they've got some gorgeous gifts for ladies and gents, jewellery, home, garden and even some clothing.
One thing I must admit; there is so much choice you will be on the site for hours. I wonder how long their average customer spends on the site. I'm sure it's much longer than the readers of my blog. You cheeky little rats.
So I spent hours traipsing around the jewellery pages, with about 5 different tabs open as I liked so many different items but payday was a little far away to get them all.
I finally settled on this kooky necklace by
Daniel Darby Jewellery
. I was drawn to it as it's silhouette is exactly the same as my bicycle Elsie. (yes I know, don't judge me).
It's really striking, the chain is a great length and it's great that it's so unusual, I wore the necklace to a house warming party this weekend and got a number of comments. Even my dad liked it enough for a compliment. So that's something.
The great thing about
notonthehighstreet
is that the brands aren't those that you will have necessarily heard of before. (hence the site name I guess) I for one am a massive fan of lesser known brands that are a little more difficult to get hold of but it is unlikely you'll see some one else wearing the same thing.
Notonthehighstreet
is sort of like an online market place. With the vendors having their own profiles etc. Big fan.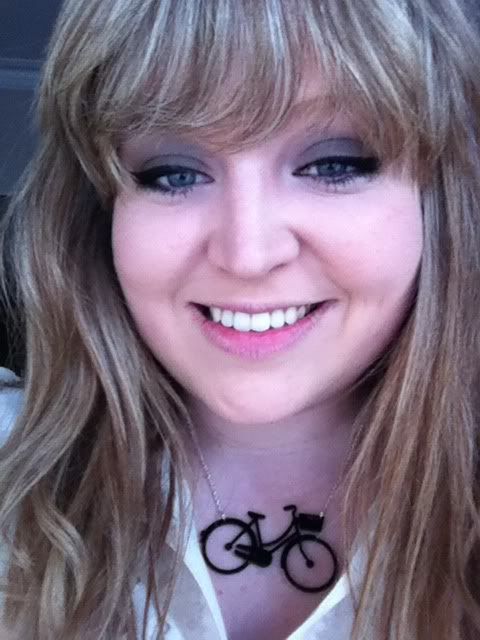 Go and check it out!
Bicycle necklace by Daniel Darby
-
notonthehighstreet.com
£40. Free delivery.